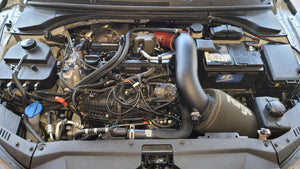 Officially Canada's most powerful Veloster N (UPDATED)
We recently had a customer with Full bolt on Forge Veloster N and Pure Turbos Hybrid Turbo installed, along with Snow Performance Water Meth injection, come in for our ECU tuning services!
 On our first revision, this car is spinning 2nd and 3rd! At a modest 21psi!
This right now is very likely the most powerful Veloster N in Canada until we finalize KDMBECCA'S VN! Then it's going to be interesting!!
 With KDMBECCA selling her Veloster N, this makes this Veloster N the most powerful Veloster N in Canada. While the numbers are still unknown as we finalize tuning, we believe over 340-360WHP is not out of reach!
Developed and tuned in Canada 🇨🇦💪👌 
#N75Tuned
---