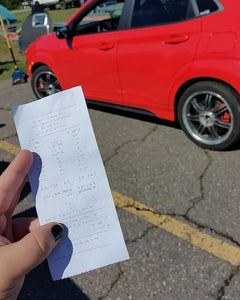 Kona N - Stage 1 ECU Tune = Possibly the World's Fastest Kona N! Click for details!
Our customer in Nova Scotia with a Bone stock Kona N running Heat Range 9 Spark Plugs and our ECU Tune (Stage 1, 7K Shift N Mode pop's) ran an amazing 12.66 @110MPH in the 1/4Mile with a 2.1+ 60FT!! This owner is adding motor mount bushings and taking it back to get into the lower 12s and maybe 11s!
This is very possibly the world's fastest Hyundai Kona N right now. We cannot find anything faster!
This Kona N is making other car enthusiast regret not buying a Hyundai! With FBO GTIs getting the smack down! 
Turn your daily driver, grocery getter, sleeper car, into a 12 second freak with our ECU Tuning services 👌
We make more power on Hyundai Kia platforms than anyone in Canada  🇨🇦 💪on top of that? We retain OEM safeties, and do not stress the turbo like others. Our tunes also net better fuel economy if you can keep your foot off the gas 😜
Tuned and developed in Canada, 1/4 mile in Canada 🇨🇦.
---