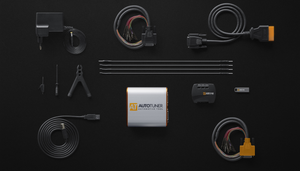 New ECU/TCU Tools leaving less and less Cars out of reach from us!
Autotuner Tool is an advanced ECU/TCU read and write tool, which now allows us to reach more and more brands!!! This is a professional tuning tool made in Europe. While Autotuner is more of the new kid on the block, Autotuner very quickly became the standard for tuners around the world, at first mainly due to the ability to reach some BMW ECU's which no other tool could, then it added more, add the fact the interface is state of the art, the processor is top notch, no yearly fee's, this tool has become very popular with tuners. We love the coverage this tool add to our current line up, nearly all Euro's are OBD flash for us, JDM imports too. Regardless Autotuner is nearly seen as a stable of tuning, we needed it for this reason. 
Recently we have had many VW owners ask us to tune their Golf R's and GTI's after going for a ride in their friends tuned Hyundai which we tuned!
Well tuning the VW's is extremely easy compared to our Hyundai's, so we figured, why not help the more than just the KDM Community? N75 Motorsports tunes are well know for their reliability, and most owners and enthusiasts look for this in a tune.
At this time we are NOT doing any development on other brands and only tuning cars will full tuning support, we will not spending time developing tunes on other brands. We focus on KDM ECU/TCU Development, however cars like the Golf R with full tuning support or the Civic Type R with full tuning support? These cars are easy to tune. We dream of the support these cars receive, if we had it? Development and testing would not be required. However due to the fact our ECU's are so hard to tune? We focus on nothing but KDM Development and offer tunes for cars with full tuning support. KDM Tuning takes a lot of time, we simply do not have enough time to develop tunes for other brands while trying to offer the best KDM ECU/TCU tunes!
We now have the ability to tune many Euro brands, many Japanese brands, American brands, and far more. From Ford to Ferrari we have it covered!

Sure, we could use cheap tools to do these tunes, but this would require taking ECU's apart, something we do not believe should be necessary for a tuning company which specializes in tuning. And that is exactly what we are!
Forget the HP Tuners tune, our tunes are far more advanced than HP Tuners tunes due to the poor map naming in HP Tuners. We have tuned the same Golf R with HP Tuners and our software (WinOLS5), we were able to tune in pops on command (Sport mode) within our software, where this was not possible on the HP Tuners tune. While many owners like the HP Tuners system, it is great for the end user, but for tuners like us? It is a very poor system lacking definitions required for proper tuning. Damos support is for many ECU's and our database of Damos support is why we decided to get a tool like this and help our none KDM friends who are actual friends with our customers! 
Check out our new tools! Solution | AUTOTUNER (autotuner-tool.com)
Get the best custom tunes in Canada, be sure to contact us at Tunes@N75Motorsports.ca to see if we can help you out on your tune!
ALL THE FEATURES YOU NEED IN A HIGH-PERFORMANCE TOOL.
THAT'S AUTOTUNER.
READING AND WRITING OF ENGINE CONTROL UNITS AND GEARBOXES
Autotuner can read data from most of the ECUs and microcontrollers on the market.
AUTOMATIC CHECKSUM CORRECTION
Checksum correction is done automatically by the tool during the writing process. There is no need to calculate the Checksum yourself.
BACK TO STOCK
Do you want to start from a sound and up-to-date base? Start by restoring the vehicle to its original state by using the "back to stock" function.
LIVE DATALOGGING
The Autotuner datalogging feature has been designed to be easy to use. For each supported ECU, we have pre-selected a set of relevant data depending on the vehicle and manufacturer's specific parameters.
DTC
Reading and deletion of Diagnostic Trouble Codes (DTC) that are generic and manufacturer-specific via the OBD-II socket.
ALL-IN ONE PACKAGE READY TO USE
In your Autotuner case, your tool and its features are ready to go and are simply waiting on you to read their first ECU!
UNIVERSAL
AUTOTUNER IS ALREADY COMPATIBLE WITH HUNDREDS OF UNITS AND THOUSANDS OF VEHICLES. DOES IT END THERE? NOT WITH US. WE REGULARLY OFFER NEW EXCLUSIVE PROTOCOLS.
This method allows you to read off the data via the vehicle's diagnostic socket.
This method requires disassembling and opening the engine ECU. The connection is made on the ECU printed circuit board (PCB).
This method requires only the disassembly of the ECU. The connection is made on the front socket of the ECU, so you do not need to open the ECU.
OUR GOAL? TO CARRY ON OFFERING NEW PROTOCOLS, UPDATES AND FUNCTIONALITIES. AND YOU CAN ENJOY THEM RIGHT AWAY.
You can't tune an engine without getting feedback on the modifications you just made. The information obtained during datalogging is vital in order to adjust the modified file as well as possible.
EASY
OUR AUTOTUNER TOOL IS SO EASY TO USE, YOU WILL GET THE HANG OF IT IN A MATTER OF SECONDS.
ECU SELECTION
OR QUICK SEARCH
Launch Autotuner and quickly find the ECU or TCU you are looking for.
FAST AND
CONNECTED
Our tool brings together the latest state-of-the-art technologies for effective communication with the ECU, ultra-fast reading of memory contents (internal or external flash and EEPROM) and automatic online backup of the TriCore password. That's right, nothing but the best.
You need to be connected to the Internet to use Autotuner. Why? So you can always enjoy the latest versions of protocols and functionalities, as soon as you launch the software.
It is important that you only use the power supply provided with the Autotuner tool. Even better, the adapters for Europe, Australia, USA and UK are already included.
We designed Autotuner to last, namely thanks to a reinforced USB port.
An armoured cable that meets manufacturer standards is included in the case.
The case comes with the two required cables (universal and boot) allowing you to connect to all ECUs.
MASTER AND SLAVE
SOLUTIONS
NO MATTER WHAT FILE PROVIDER YOU USE, OR HOW YOU USE IT, THERE IS AN AUTOTUNER VERSION FOR YOU.
DON'T KNOW WHICH VERSION

 

IS MADE FOR YOU ?
DO YOU DEVELOP YOUR OWN TUNING FILES?
DO YOU PLAN ON WORKING WITH MORE THAN ONE TUNING FILE PROVIDER ?
YOU NEED THE MASTER VERSION
YOU CAN GO FOR THE SLAVE VERSION.
(Master and Slave tools are ways to tell if your dealing with a tuner or file service tuner, ALL our tools are Master, Slave require other tuner support (WE CANNOT EDIT THE FILE ON SLAVE TOOLS NOR ACCESS IT) Our dealers use Slave tools) 
---