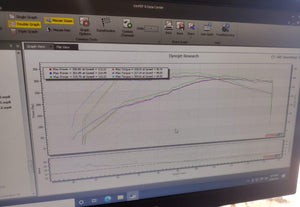 Veloster N DCT with Elantra N Turbocharger in Florida Heat Dynoed!
Our customer with our tune on his Veloster N DCT with Elantra N Turbo recently Dynoed his car and made a impressive 315WHP and 343WTQ on a SAE Dynojet in the Florida heat after a 1.5HR drive to the dyno with NO cool down!!!
This is a very conservative tune, made to last the life of the car without the tune being the reason of failure. 
This owner will be getting an EK1 Pro and we will be making some spicy maps for him to dyno!!!
Butter smooth powerband you expect from N75 Motorsports!
Unlike other tuners we used a SAE Dynojet which reads lower numbers than STD Dynojet by around 3-7%, SAE correction in our opinion is more realistic reading of your engines wheel horsepower than STD correction is. These numbers would be higher if this was to be a STD Dynojet.
A taste of what is to come from N75 on the "N" platform, as we are still in the finalization process of tuning our stuffed turbo VN! @KDMBECCA Which we hope to see over 350WHP!!  
#N75Tuned
#RealWorldResults
---