---
---
Improve you lap times with the assistance from Catalyst!
IN STOCK
 This is like the new Hyundai Elantra N tracker on steroids! With vocal guidance on how to improve your lap times!
Increase your lap times! Catalyst tells you where to improve braking and acceleration! Also helps you find the corners!! WATCH THIS! https://youtu.be/rpp7FebnqxA
What's in the box?
Garmin Catalyst™
32 GB microSD™ pre-installed under covered compartment (auxiliary card slot on the side of the Catalyst device is externally accessible for memory expansion)
Remote Cam with polarized lens cover
Remote Cam 3.5 meter cable
Heavy-duty vehicle suction cup
Powered magnetic mount
Two 1" connecting arms
1" arm connector
Cable clips
Socket power cable
Documentation
Included Optional Accessories
1" ball adapter screw down mount
USB data cable
12V bare wire vehicle power cable 
Additional Remote Cam adhesive
General

PHYSICAL DIMENSIONS
7.84" W x 4.79" H x 0.93" D (19.9 x 12.2 x 2.4 cm)
DISPLAY SIZE
6.0" W x 3.5" H (15.2 x 8.9 cm); 6.95" (17.7 cm)
DISPLAY RESOLUTION
1024 x 600 pixels
DISPLAY TYPE
6.95" super wide view IPS, color TFT, with on-cell capacitive touch panel
WEIGHT

15.4 oz (437 g)

BATTERY TYPE
rechargeable lithium-ion
BATTERY LIFE

up to 2 hours

MAGNETIC MOUNT
1" BALL ADAPTER WITH AMPS PLATE
Maps & Memory

DATA CARDS
yes (1 SD card slot (accessible under bottom cover): 32 GB microSD™ Class 10 card included. Two SD card slots (side of unit): not included, accepts up to 256 GB microSD)
INTERNAL STORAGE
16 GB
Sensors

GPS
GLONASS
10 HZ MULTI-GNSS POSITIONING
Garmin Connect™

GARMIN CONNECT™ COMPATIBLE
yes (access data summaries from your compatible phone or computer)
Camera Features

CAMERA RESOLUTION
1080p (Remote Cam)
FIELD OF VIEW
140 degrees
FRAME RATE
up to 30 FPS
Advanced Features

WI-FI® MAP AND SOFTWARE UPDATES
yes (software and track database updates)
Connectivity

WORKS WITH VEHICLE STEREO
Motorsport Features

TRUE TRACK POSITIONING™ (YOUR RACING LINE)
Yes
REAL-TIME AUDIO CUES/AUDIO COACHING
Yes
TRUE OPTIMAL LAP™ WITH VIDEO
Yes
BUILT-IN ACCELEROMETERS
Yes
BLUETOOTH® CONNECTIVITY
yes_bluetooth_helmet_headset
AUDIO LINE-OUT/HEADPHONE JACK
Yes
POWERED MAGNETIC MOUNT
Yes

SCREW-DOWN MOUNT
Yes
DISPLAYS BEST LAP TIME, ADAPTIVE DELTA TIME, NUMBER OF LAPS AND TOTAL SESSION TIME
Yes
PRELOADED GLOBAL TRACK DATABASE
Yes

SESSION COMPARISONS

Yes
DRIVING PERFORMANCE SCORES
Yes
AUTOMATICALLY IDENTIFIES AREAS OF BIGGEST TIME GAIN
Yes
SUPPORTS MULTIPLE USERS
Yes
SUPPORTS MULTIPLE CARS
Yes
STORES HISTORY OF ALL ON-TRACK PERFORMANCE
Yes
CURRENT WEATHER PLUS 5 DAY FORECAST VIA WI-FI
Yes
SEGMENT ANALYSIS (RACING LINE, SPEED AND ACCELERATION/DECELERATION) YES
WATCH THIS!---\/
DISCOVER YOUR FULL TRACK DRIVING POTENTIAL
For drivers of all levels, this industry-first "coach" mounts in your cockpit — gathering performance data, giving real-time audible cues and offering immediate session analysis to show you key areas for improvement1.


What's my line? The True Track Positioning™ feature shows your racing line on the track.


Talk to me, coach. Get real-time audio cues from your headset2 or car stereo.


Garmin Catalyst tracks and compares to show if you're ahead or behind previous lap time.


True Optimal Lap™ technology factors all performance data to show your best drivable time.


Make headway. Immediate data and adaptive suggestions show key areas for improvement.


After your session, instantly review your session stats on the 7" touchscreen. No computer needed.
Make the best of your time on the track.
TRUE TRACK POSITIONING
This groundbreaking technology uses 10 Hz multi-GNSS positioning, image processing and built-in accelerometers to generate your racing line on the track.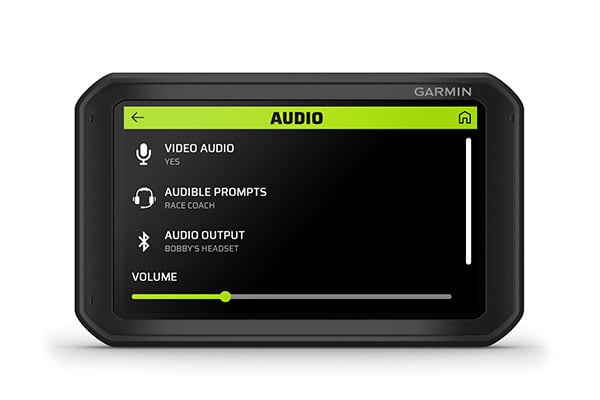 ON-TRACK DRIVING COACH
On the track, Garmin Catalyst quickly becomes your real-time "coach," giving audio cues via BLUETOOTH® technology from your headset2 or car stereo.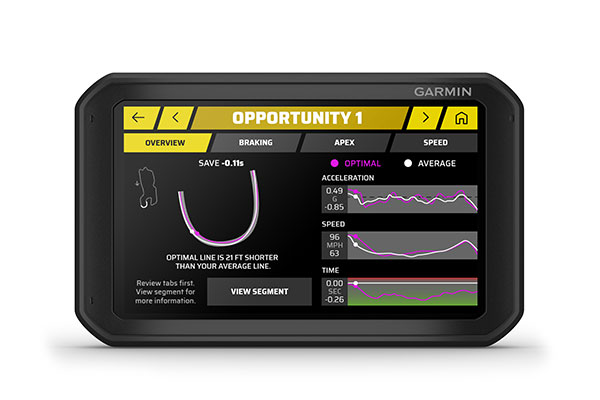 TRUE OPTIMAL LAP
This revolutionary technology combines your best times for each track segment to show your optimum drivable time based on lines you actually drove and can repeat.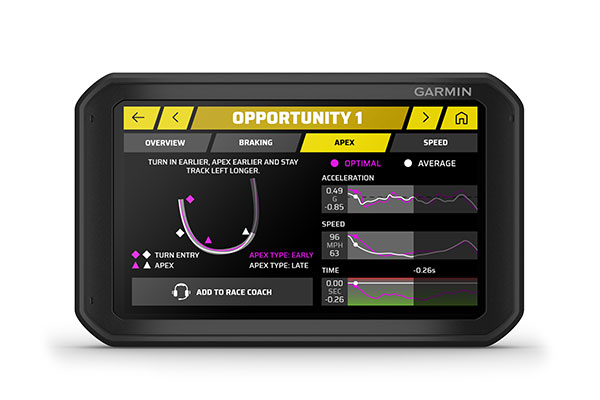 APEX PERFORMANCE
Which line should you track when ripping around corners? See on the map how early or late apex decisions affect your overall speed through the course.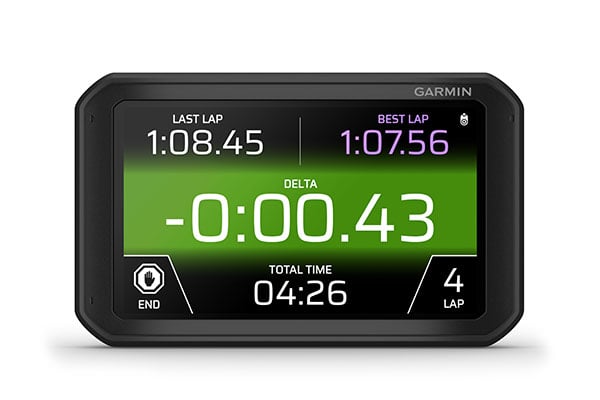 REAL-TIME LAP DATA
On the course, Garmin Catalyst keeps track of your best lap time, adaptive delta time, number of laps and total session time.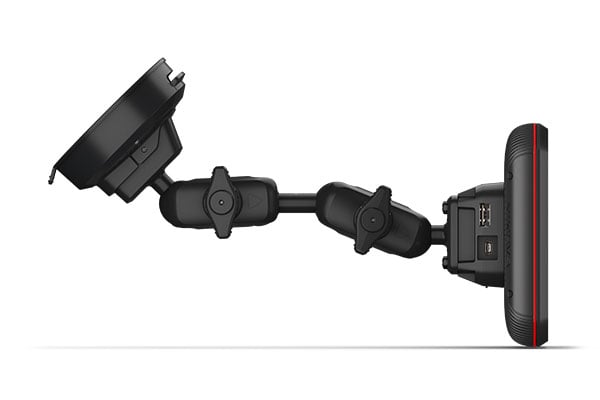 MOUNTS IN THE COCKPIT
Secure Garmin Catalyst inside the cockpit using the included heavy-duty suction cup or the included screw down mount.
See how you did — and where you could do better.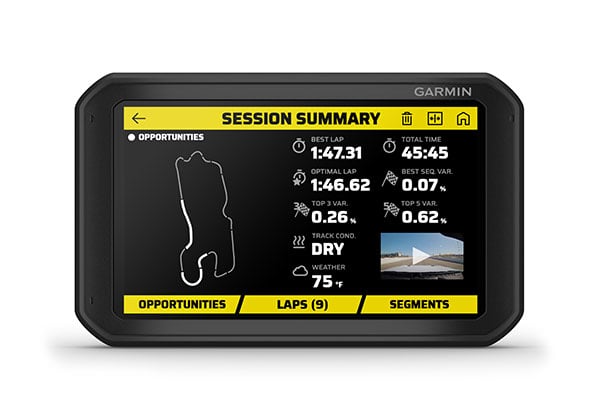 SEE AREAS OF GAIN
After your session, immediately review the performance data on your device to see where on the track your biggest areas for improvement are.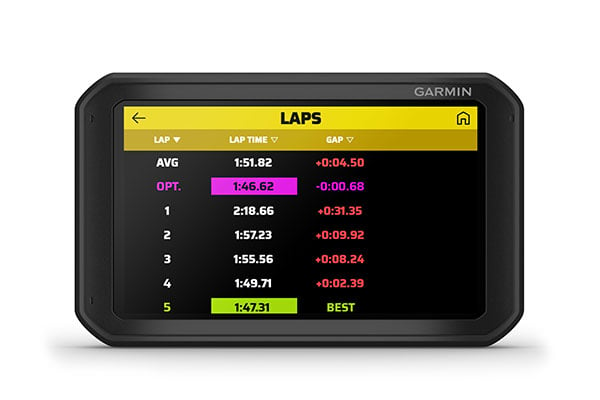 AUTOMATIC INTERPRETATION
Garmin Catalyst crunches the numbers. So there's no need to download data to your computer — and no cumbersome graphs with squiggly lines that leave you trying to analyze data for hours.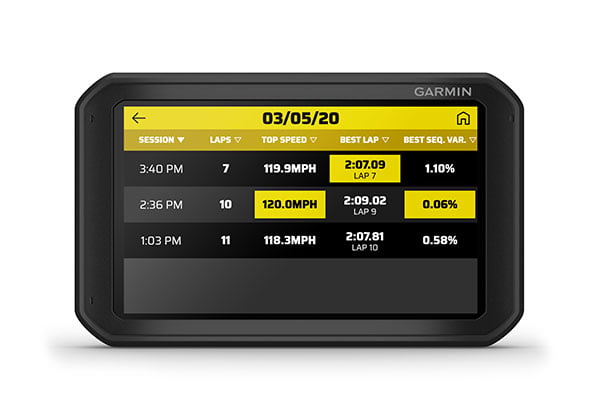 ADAPTIVE COACHING
Easily compare performance data from your other sessions, and get immediate, adaptive suggestions to see areas where you can do better.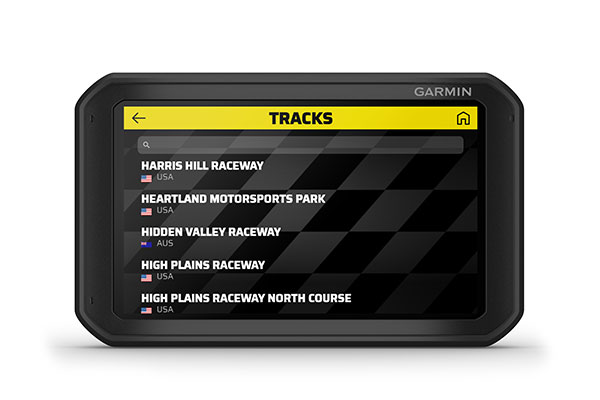 TRACK DATABASE
Garmin Catalyst comes preloaded with a track database featuring road courses from around the world. Garmin Catalyst allows users to easily add courses to the database as well.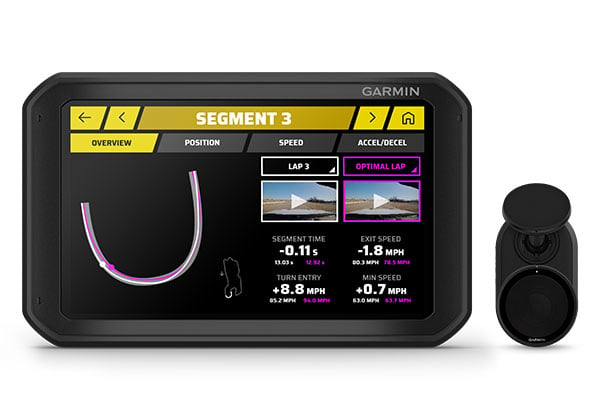 REMOTE CAM
The included remote cam captures clear, crisp HD video, which can be played back on the device with time-synced overlays showing speed, lap data and more.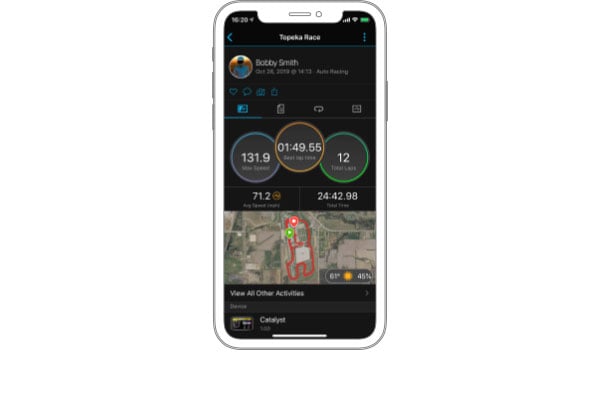 DATA ON DEMAND
Review in-depth performance data on your 7" Garmin Catalyst device, or access a summary of your data on your mobile device or computer using the Garmin Connect™ app.
Hear What the Industry is Saying
1

 
WARNING: This device is intended only for recreational use in a circuit environment. Never use this device on public roadways. Failure to follow this warning may result in an accident causing property damage, serious personal injury, or death. You are responsible for using this device in a safe and prudent manner
2

 
Requires helmet or headset (each sold separately) enabled with BLUETOOTH technology
The Bluetooth word mark and logos are owned by the Bluetooth SIG, Inc. and any use of such marks by Garmin is under license.
---