IN STOCK
 WORKS WITH SXTH INTAKES
The highest quality inlet, no claims, only proof, get the best for your Hyundai with Forge Motorsports!
Product Description
THIS WILL ONLY FIT 4" INTAKES - THIS WILL NOT FIT THE STOCK AIRBOX
With Forge leading the way in aftermarket products for the new Hyundai's, we are proud to present our turbo inlet adaptor for the i30N and Veloster N. 
Designed and developed by our highly skilled team on the Solidworks CAD system, the all billet turbo adaptor and high flow silicone inlet pipe is proven to benefit your engines performance. With one of the weak links on the i30N and Veloster's intake system being the restrictive aluminium inlet pipe, we found something more was needed on stage 1 and 2 tuned vehicles. You can not go wrong with Forge hardware on your tuned Hyundai - the results speak for themselves!
Mated to our 4" intake and high performance filter (FMINDK28) the gain from the turbo adaptor alone was 10BHP, and, along with a gain in torque, it really transforms your driving experience. The power can be felt from just above 3000 RPM and helps keep a hard consistent pull all the way to the rev limiter.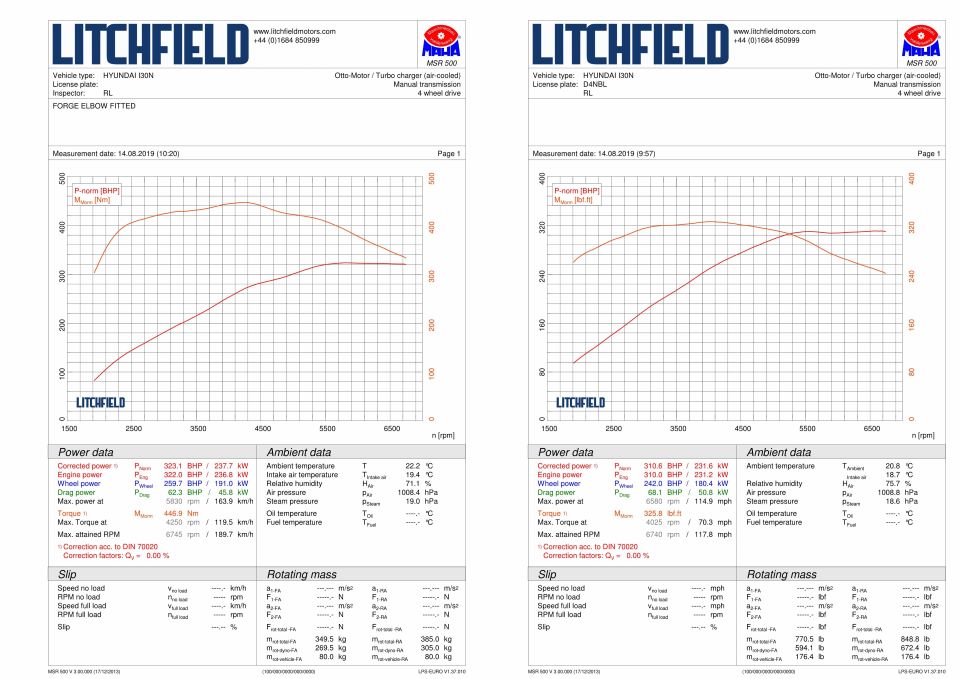 Testing was completed on a Maha independent dyno, manufactured by the same people who currently supply BMW M sport and Mercedes Benz for all of their engine calibration and dyno testing.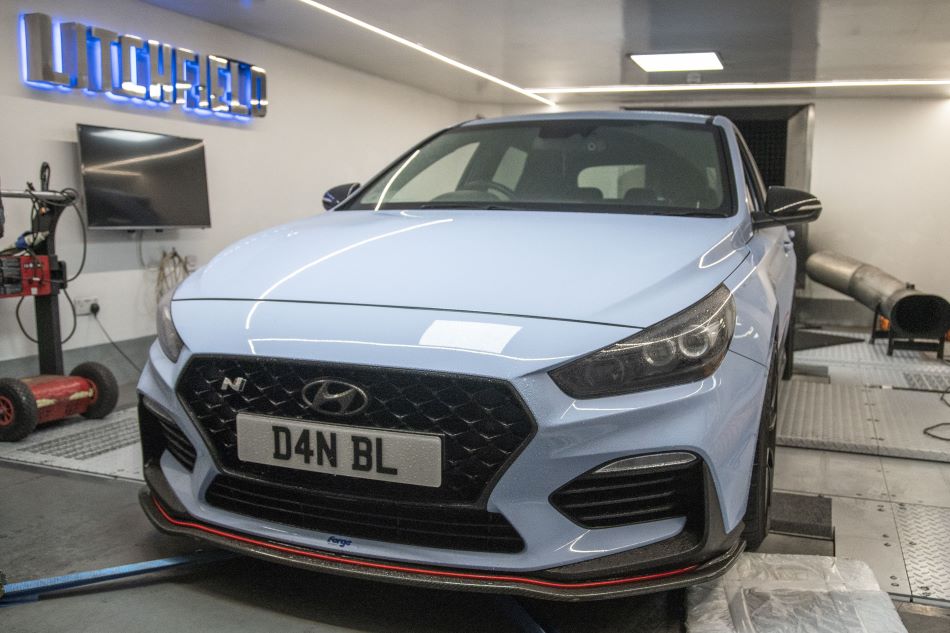 Interestingly there has been lots of divided opinions about our intake requiring a heat shield. Testing took place with the bonnet shut and replicated wind speeds of around 70MPH. Intake temperatures were logged and monitored along with thermal images taken,. During this testing, we did not see the inlet pipe or intake temperatures rise; even after 4 hard pulls, the inlet temperatures stayed at a steady 30°C.
The Forge developed turbo inlet adaptor improves your i30N or Veloster's airflow in several ways. Designed in a similar way to a conventional velocity stack, it routes the air more directly into your turbo charger and allows more air to be compressed due to its larger capacity. This can have a positive affect on accelerating your vehicle after long deceleration or in between gear changes due to more air being kept within the intake system.
The Forge turbo inlet adaptor and high flow inlet pipe has a capacity of more than 150% over the stock item. Not only will you notice the increased performance, but also a slight change in your engine acoustics can be heard.
As with all Forge motorsport products we offer a no quibble lifetime guarantee on both the silicone hose and billet adaptor.
Will this fit other intakes? The answer is yes, it will fit other manufacturers intakes that have an inlet pipe of 102mm (4"). This will not fit the OEM.
This is a simple installation and a modification that releases even more power from the Hyundai`s motor and fitting takes typically around 45 minutes and includes a full set of comprehensive installation instructions.
Manufactured from

 

6082

 

aerospace grade aluminium
Black anodised for ultimate protection and durability
Increased capacity of over

 

150%
No engine check lights (EML)
Perfect fit with our

 

induction kit
Increased air flow
The Forge silicone hoses in this kit have been designed to include an expensive inner liner of modified silicone known as

 

Fluorosilicone. This means the hoses are suitable to be used with either modern long-life coolants, Organic Acid Technology coolants (O.A.T.) or air containing oil mist. The construction of the hoses has been engineered to exceed that of the OEM fitments, and will enhance any engine bay both technically and aesthetically The use of a

 

Fluorosilicone

 

liner ensures that Forge silicone hoses are the clear market leader
Made in the UK
Lifetime warranty

Please Note:

 

In line with our policy to constantly review, revise, and improve our product range, the appearance of the product you receive may differ from the one advertised.