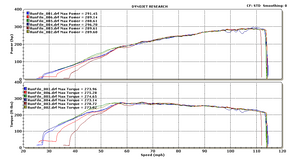 Canada's Most Powerful Veloster Turbo 2
 This past weekend (May 30th, 2021) we hit the dyno with our 2019 Hyundai Veloster Turbo (VT2) Stuffed Turbo car. Our turbo, our tune, Wagner FMIC, our downpipe and custom catless exhaust, it made 297whp at only 25psi! This is the most powerful Hyundai Veloster Turbo 2 in Canada! 91 Octane tune without meth!
Order your stuffed turbo for your 1.6T and with our tune you will be around 300whp with a Wagner FMIC!
N75 Motorsports is Canada's leading KDM Tuner, we don't just say it, we prove it!
SEE OUR DYNO VIDEO BELOW ON OUR MAIN PAGE!!!
#n75tuned
 Full Mod List.
N75 Motorsports Tuned 91 Octane 
N75 Motorsports Turbo
N75 Motorsports Catless Downpipe
N75 Motorsports Oil Catch Can
N75 Motorsports BOV Solenoid Upgrade kit (Pierburg)
GFB T9111 Vent to Atmosphere W/ Whistle Horn 
Wagner Tuning FMIC 
MSD Ignition Coils
KDM TUNERS TB Spacers for boost tap
HKS M45XL Spark Plugs
Custom Catless Exhaust
SXTH Hot Pipe
SXTH SRI
SXTH Coldpipe 
⛽ 91 Octane Shell V-Power Zero ethanol 🇨🇦
We plan on running another map through the car and see if we can break 300whp, we believe it is possible on our turbo given this was only at 25psi!
Update: Car will explore VVT Solenoids and other "streetable mods" (do not require maintenance like WMI) to put it over the 300WHP mark on 91 octane pump gas! Our goal is 300WHP with ZERO Engine work, (OEM valve springs do well to 7000RPM) and so far on our tuning the engine shows no signs of wear!! 
We suggest Motul Sport 5W40 engine oil as it has a very high thermal barrier, it will protect your engine best at that price point. 
 UPDATE:Car will be hitting the Dyno in Dec.
We are trying to build a vehicle that makes a lot of power yet is still supported by Street fuel and pump gas which is readily available. Making this car produce over 300 wheel horsepower on higher octane fuel is not an issue! 💥💥💥🏁
---