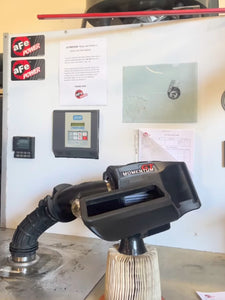 Did you know AFE Power Intakes are bench flow tested?
If you didn't know at N75 Motorsports we see AFE Intakes as some of the highest quality intakes for our cars, this is for a few reasons. 
First and most importantly AFE intakes use a plastic tube and box, this is important as it does not absorb heat from your engine bay. 
Secondly all AFE Intakes are 3D scanned and then molds are made for the biggest possible airbox the vehicle can fit! AFE Intakes have the largest airbox of any performance intake due to this design setup. 
AFE intakes are bench tested for flow, something not many manufacturers do, this aid's AFE in making a better product for us, knowing exactly how much air the OEM system flows again AFE is a huge advantage.
Next is quality products made in the USA! Some of the highest quality automotive performance parts are made in North America and AFE is no exception! 
Lastly, well priced! For the money you spend on a AFE intake you are getting on heck of quality product, other intakes in the same price range look very cheap compared to AFE. 
AFE also fixed the hood seal issue on the 1.6T Takeda Intake, again, reassuring the customer not only that they make a great product but are there to provide quality customer service. (We have had customers get updated hood seals from AFE)
We stock nearly all AFE intakes, we use AFE Intakes on our development cars. And these are the reason why!
---