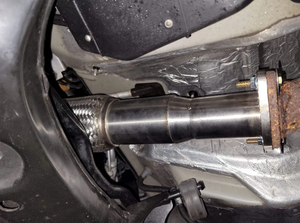 1.6T Downpipe's Ready for Order
After months of R&D we have found the perfect setup for our downpipes. Our setup is so good, we offer lifetime warranty with our downpipe. If it breaks? You get a new one, no questions asked. We added a slight bend in the pipe which most vendors do not, this causes stress on the flex pipe which stresses the bolts to the turbo flange. We have heard more than one case of the downpipe being sheared off the turbo due to excess stress on the flex pipe causing stress on poorly made OEM Hardware. We suggest ARP Hardware with every downpipe and have added an option for you to buy it at a discount. 
We also offer a high flow catted option. This high flow catted option is California Emission Cert due to the G-Sport 300 Cell High Flow Cat we use. This is the most advanced technology catalytic converter money can buy. Its a 300 cell which flows like a 200 Cell and can take a beating on our pop tune or any pop tune. This cat is so good the downpipe does not require a O2 Sensor Fouler, however we still use one.
We have thought of it all, with a 3" downpipe with a step down to 2.5" to retain backpressure needed for peak performance, yet pulling hot air away from the turbine quickly. This downpipe is Rated for 500whp with a Catalytic Converter!  
---