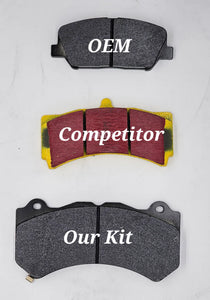 KDM Owners rejoice! TCR style brakes are now available!
We recently have released two big brake kits.
1 is a 2 piece ultra light weight caliper that fits on 18" wheels and even some 17" wheels!
The biggest strongest kit we have is a TCR competition kit made by Fella Racing in Korea for us exclusively. It features a Brembo style brake pad, Brembo style pads means Brembo pad support. And let us tell you, Race pads which literally won't stop the car until heated are available! Hawk Performance HP+ comes stock with the kit! These pads alone are enough to plant your face in the windshield!
Let's talk about the rotor! 380mm Advanced venting technology and a material which is made for N75 Motorsports!, and specifically made for Race purposes.  Look for the "N75 Spec" stamp on our disc.  
To complete the kit, it comes with HEL Performance front brake lines and Stoptech 600 DOT4 brake fluid to put the cherry on top.
At N75 Motorsports we stress the driver experience, we aren't the company who just looks at power, balance between handling, braking and acceleration is needed. While the OEM brakes are fantastic for OEM ECU calibrations, our calibrations in our opinion can easily out perform the OEM brakes. This kit will handle anything you throw at it. In fact these brakes could well be considered too big for our cars,  which is why we offer them in 360mm disc as well. 360mm fit 18" wheels. 
While we well understand this kit is far from cheap, ask yourself, can you put a price on your life? If your crazy like us and drive a little nutty, nothing is better than a set of brakes you know when you press that brake pedal? You don't need to worry about who is in front of you, you need to worry about who's behind you! Because your stopping faster than anyone can ever expect. 
This kit is developed for us and test by the Ogawa Race Team in Korea. Do not think these are untested. With our added standard option of Hawk Performance HP+? We don't believe anyone can compete with our BBK, ironically including the Korean manufacturer! Because of the pads we use which are Made in The USA 🇺🇸.
This kit is made to exceed your expectations, not meet them, exceed them. If you track your car? This kit will remove seconds off your time as you can now brake so much later it isn't even funny. 
Why our kit over CTS-V BBK? Simple, our kit uses bigger rotors, thicker rotors, and rotors have advanced venting not available for CTS-V kits, and bigger rotors. You will never get a rotor as thick as ours, and this allows the kit to retain more heat, dissipate more heat than any other rotor. NOT TO MENTION!, This is a lightweight caliper and floating rotor! This means this kit is not only powerful, but lightweight!!!  Weight in the wheel area (brakes, control arms, shocks, wheels) is the most rewarding area of the car to reduce weight. This kit will literally bolt on acceleration as it weights less than stock brakes! OEM rotors alone are very heavy, OEM caliper? 20lbs! So not only is this stronger than CTS-V its lighter than that is priceless for the purest!  Our caliper? Under 4KG!!! (under 9lbs!)
Why our kit over competitor kits? Simple Brembo Pads and selection of pads, not to mention take a look at their pad size and ours! Need we say more? We bought replacement pads from the most expensive BBK for a Veloster N for this picture. 
#n75tuned
#balancedPerformance
#madeinkorea
#madeintheusa
---