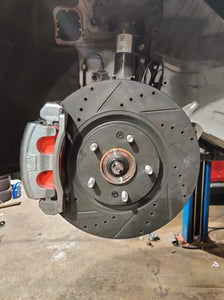 BBK for Stock wheels, no spacers needed!
Our N75 BBK for the ES/VT2/ForteGT/EGTS/NLine is now available in our "Brakes" section! This kit takes OEM rotors from 305mm to 320mm and single piston calipers to dual piston calipers with much larger brake pads! This kit includes Motul Ultra High Performance Brake Fluid to aid with stopping power! Premium Pads and Rotors used! Freshly rebuild calipers that look new used!
This kit is a MUST for ANY owners that are FBO and Tuned, We add power but we don't think about brakes until it all goes wrong! WE HAVE BEEN THERE! You add to much power, hit the track and lose you brakes going into a corner at 200kmph!, it isn't fun! 
 THIS KIT IS NOW AVAILABLE IN OUR BRAKES SECTION!
---
1 comment