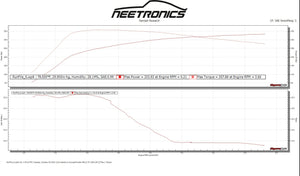 Project 2.2 Dynoed, 340WHP/360WTQ On pump gas!
Note; This is a SAE Dynojet, this correction reads about 3-5% lower than STD correction which you see all other tuners use. These numbers are more realistic, even show our correction factor. This is 350WHP+ on STD Dynojet Correction without issue.
We ran our project DCT Veloster N on the dyno to see where it is 
Elantra N turbo
Wagner Tuning FMIC
Xforce Downpipe
Our hot pipe/Forge cold pipe.
OEM exhaust.
A pretty decent 340whp and 360wtq was the best run.
We were limited to boost due to the DCT starting to slip, but adding some more mods to make more power and less torque and we'll see how far we get!
#TunedinCanada
---