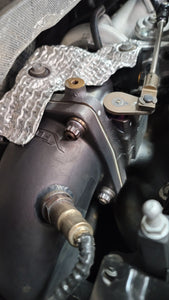 Project 2.2 goes full Xforce Exhaust!
As our good customers will know, we highly recommend Xforce exhaust components for all Hyundai Kia vehicles, there are a few reasons for this.
1st top level innovation, matching turbo outlets with dump pipes, optimizing dump pipes per turbocharger, in our opinion? No one does it better.
2nd Quality! That Australian quality is hard to beat!! Look at some Xforce products and marvel in the welding. Quality coated piping as well.
3rd and most importantly performance. We proved Xforce exhaust components are the best performing, the fastest Kia Forte GT runs a Xforce Downpipe and that car is capable of hurting the feelings of a Elantra N owner.
Our Veloster N will use a Xforce Downpipe, and Varex catback. Without the Varex catback and without various bolt ons the car Dynoed 360wtq and 340whp! So we are excited to see what Xforce can do for us! 
Always remember to add ARP downpipe installation hardware when ordering a Downpipe. It doesn't matter who makes the downpipe, OEM Hyundai Kia Downpipe hardware is known to fail. ARP will solve this issue and we have both 1.6T and 2.0T in stock at all times.
If you're looking for a quality upgrade for your car, or starting place for your car for modding, a nice exhaust system never fails and will not only sound great, but make power. 
---