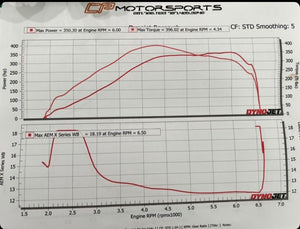 Veloster N with EN Turbo hit the Dyno! 350WHP+ 396WTQ+!
Our customer in the USA hit the dyno with his Veloster N, EN Pure Turbos. 
 350+WHP 396+WTQ!
SXTH FBO.
Due to the fact he was getting deployed next week we were not able to complete the tuning, however we were able to get to this point and extremely happy!! As is the owner, as he is going to be gone for 12 months. He didn't think we would get this fair before he left but we got there! 
We often say we lead the way with Hyundai and Kia tuning in Canada. But we don't just say it, we prove it! 
#TunedinCanada
#BuiltInTheUSA
#N75Tuned
#ProperTuning
#EK1Pro
---