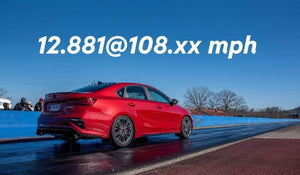 We Broke our own World Record! First Kia Forte GT in the 12s!
Our customer with the record for the fastest Kia Forte GT just broke his own record!
This car has an OEM Turbo, Wagner Tuning FMIC, AFE Takeda Intake, Xforce Downpipe, our HPFP Upgrade and various small add-ons with AEM WMI, and of course our ECU Calibration! TCU was tuned by SXTH Element Engineering! TCU/ECU Harmony! 
Believe it or not this is a budget build, yet it is the fastest in the World! With other cars with far more mods that are not even 12s cars! This journey for this owner started with a 91 Octane tune, that tune made him a low 13 second car, that fueled the need for him to be the fastest, with our help we got him there!  
We never thought our 100 Octane Tune would power a 1.6T not only into the 12s, but 12.881!! Again the is a car that comes from factory with 200 advertised Horsepower, an OEM turbocharger, OEM wheels and tires! Yes! This was done on OEM All Seasons!! Driven to the track 5 hours and driven back 5 hours 💪
First and only Kia Forte GT in the 12s!
Possibly the fastest OEM turbo 1.6T Kia out of ALL 1.6Ts!
#TunedinCanada
#WorldRecordDoneinTheUSA
#N75Tuned
#PoweredbyN75
#RemoteTuning
#ProperTuning
 #KingsofCPEGD
---