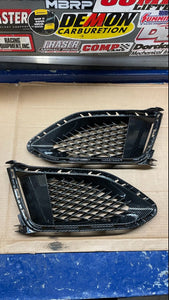 @Yames_Designs Front Brake Cooling Ducts *GAMECHANGER*
At N75 Motorsports even if we don't sell a product? We want you to know about it! And this is a Gamechanger!
Yames Design Front Brake Cooling Ducts are a MUST for the Veloster N track user. These are factory in Europe on the I30N (a variant of this system)
We have these going on out project Veloster N DCT, but not only will get rid of they "fake grills" but also provide active brake cooling!
Stylish and functional! Win-win!
Designed in Canada 🇨🇦💪
Contact @yames_designs on Instagram for your custom made set!!
---